Zack FM's Radio Marathon 2019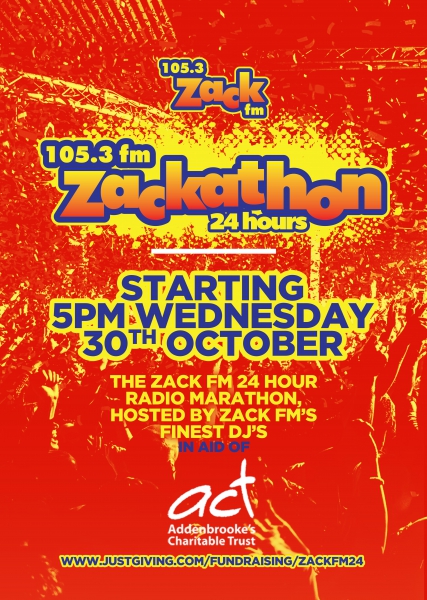 Category
Community Calender
Date
30 October 2019 17:00 - 31 October 2019 17:00
Venue
Zack FM 105.3 - 5a mill street mildenhall
suffolk

Email
This email address is being protected from spambots. You need JavaScript enabled to view it.
Zack FM's Radio Marathon is Back for 2019!!
Our Zack Fm DJ's are going to be taking on the crazy challenge of doing a 24 hour show LIVE on the radio!! They will be taking on this massive endeavor to raise money for Addenbrooke's Charitable Trust - Making a Difference for Patients
It will all kick off on Wednesday 30th October at 5pm, we invite you to listen through out the 24 hours to help raise money and awareness for this amazing charity and also to make sure they haven't fallen asleep!
If you would like to donate to help raise money please visit our just giving page or you can even sponsor one of the hours of the live event on air just call the studio 01638 711177 for more information, we would like to thank you in advance for your donations and support during this event!
This Year Will Be Completely Different, We Will Be Auctioning Off Prizes LIVE On Air!
Contact Details Throughout The Event:
Call : 01638 711 177
Text: 07480 986266
Email: This email address is being protected from spambots. You need JavaScript enabled to view it.
All Dates
From 30 October 2019 17:00 to 31 October 2019 17:00
PROGRAMMES
Breakfast with Juice Weekdays
The Steve Penk Rewind Hour
Classic Rock with Jarvo
House of Zack with Mark Davis
Rick Dees in the afternoon
Emporer Rosko LA Connection
Movie Weekly with Stu
Solid Gold Mornings with Derek "Tommo" Thompson
Address
Zack FM.
5A Mill St, Mildenhall, Bury Saint Edmunds IP28 7DP
Text the studio: 07480 98 62 66
Email: studio@zackfm.com (also for sales enquiries)
Switchboard: 01638 711 177 (press 1 for studio)
Sales: 07957 351 420